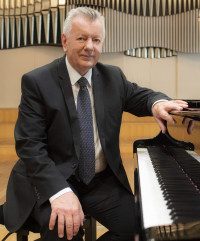 Dear Slovak Philharmonic supporters,
the beginning of the 72nd concert season has caught us at a rather uncertain time. The difficult months of 2020, when the onset of the coronavirus changed our lives overnight and robbed all of us music lovers of the possibility to create music and attend concerts, are behind us. After the longed-for easing of strict coronavirus measures, we can now hope to open the 2020/2021 season without major restrictions, although Damocles' sword remains above us with the arrival of a new wave of the pandemic. We therefore ask you to be responsible and to respect the rules which will also apply to the Bratislava Redute.
I believe that a lovely season is awaiting us, filled with concerts featuring top artists and valuable works. The new Chief Conductor of the Slovak Philharmonic, Daniel Raiskin, will take up his function at the beginning of the season. Born in St. Petersburg, now permanently residing in Amsterdam, he is not unknown to the Bratislava public. I am persuaded that he will build on his previous successful cooperation with the Slovak Philharmonic both at home and abroad, and that his artistic leadership will inspire the orchestra to grow to new levels. Here I would like to thank his predecessor, James Judd, for his dedicated service and who, due to the situation which arose in spring, was not able to conduct his last concerts as Chief Conductor. We are, therefore, overjoyed that he will return to our orchestra more than once during the coming season. We are just as happy to welcome back two other former chief conductors, Emmanuel Villaume and Peter Feranec, who will conduct some of our concerts. Other conductors who will honour us with return visits are Ion Marin, Jun Märkl, Ralf Weikert, George Pehlivanian, Petr Altrichter, Łukasz Borowicz, Charles Olivieri-Munroe, Adrian Prabava, Leoš Svárovský, Rastislav Štúr and Peter Breiner. The Japanese conductor Junichi Hirokami, and one of the most outstanding Hungarian young generation conductors, Gábor Káli, will conduct our orchestra for the first time. Martin Leginus and Ondrej Olos, two Slovak conductors who are already well-established in Slovakia, will be making their debut with the Slovak Philharmonic. Among the soloists invited I would like to mention the violinists Vadim Gluzman, Akiko Suwanai, Sophia Jaffé, Simone Lamsma and the young Czech talent Julie Svěcená, pianists Alexander Gadjiev, Claire Huangci, Zoltán Fejérvári and Benjamin Grosvenor, the cellist Alexander Ramm, clarinetist Pablo Barragán, bassoonist Jan Hudeček and the young Slovak trumpet player Stanislav Masaryk, who is at present taking up the position of 1st trumpet in the Czech Philharmonic. Apart from our excellent Slovak Philharmonic Choir, vocal soloists like Simona Houda Šaturová, Olesya Petrova, Mária Porubčinová, Pavol Bršlík, Aleš Briscein, Terézia Kružliaková, Jozef Benci, Peter Mikuláš and Peter Kellner will perform in vocal-symphonic works. One of the highlights of the season will be the 110th anniversary of Ján Cikker's birth and the start of Igor Stravinsky's double anniversary (50 years since his death in 2021 and the 140th anniversary of his birth in 2022), which we will celebrate in various concerts. An important event this coming season will be a performance by the Gustav Mahler Jugendorchester, an orchestra made up of the best young instrumentalists in Europe, who will perform in Bratislava with the star conductor of the present, Daniele Gatti. Our traditional concerts at Christmas, Old Year's Eve and New Year's Eve, as well as the popular film music concerts and youth concerts will, of course, not be overlooked. Last but not least, I would like to remind you that the new concert season is also an anniversary season for one of the SPh ensembles, the Slovak Chamber Orchestra, which was founded in the autumn of 1960 and performed its first public concert in 1961. We will celebrate this event symbolically with a gala concert in February 2021.
The program on offer is thus varied and, I believe, comprises something pleasing for everyone. I'm looking forward to seeing you at the Redute.
Prof. Marian Lapšanský,
Slovak Philharmonic Managing Director