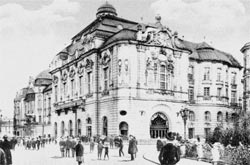 The Reduta Building, the present place of activity of the Slovak Philharmonic, is the most important and representative point of cultural and social life in Bratislava's old city centre.
A former Baroque granary built in accordance with an order of Maria Theresa in 1773. In 1913 – 1919, they turned an object in neo-Baroque style with Rococco and Art Nouveau elements. Many Slovak and foreign craftsmen participated in the decoration of the facade and interiors. Refined stuccowork and other interior wall decorations, stained glass forming various compositions, and precious windowpanes with ornament-etched glass, make the most remarkable embellishment of the building. An interesting fact is that the Reduta is one of the first buildings in Bratislava constructed using a modern ferro-concrete method.
Also the spaces of the Reduta – a predecessor of contemporary cultural centres – did not avoid commercialization and in the course of time they were rented to various institutions. One of these institutions was the Municipal Music School that educated some of the leading personalities of Slovak music life. Also, fashionable restaurants were opened in the building. One of the first cinemas in Bratislava started there in 1916.
However, the present 700-seat Concert Hall of the Slovak Philharmonic was not used exclusively for cinema purposes at that time but some concert performances took place there, too. Since 1916, they were usually organised by the Bratislava Concert Association. The vibrant life of the Reduta became even more opulent during carnival time. Exciting fancy-dress balls or representative black-tie events of Bratislava's high society were held in the glamorous spaces of this building. This tradition has persisted up to our present time.
The Reduta became the home of the Slovak Philharmonic in the early 1950s. It has offered to the wide public a rich concert life and performances of artists and their ensembles from all over the world.