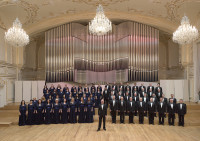 The Slovak Philharmonic Choir
is a prominent representative of the Slovak art of professional choir singing. It originated in 1946 as the Mixed Choir of the Czechoslovak Radio. In its early years it was led by its initiator and founder, the conductor Ladislav Slovák. In 1955 Jan Maria Dobrodinský took over the leadership of the choir and for more than 20 years made a substantial contribution to the presentation and artistic development of the ensemble, which had been incorporated (under its present name) into the group of Slovak Philharmonic bodies in 1957. In 1977, Valentin Iljin assumed the position of choirmaster, later succeeded by the choir expert Lubomír Mátl and then by Štefan Klimo, Pavel Baxa, Pavol Procházka and Marián Vach, each of whom had a share in the development of the choir's level of interpretation. Blanka Juhaňáková (1991 – 2001) and Jan Rozehnal (1991 – 2003) continued in this tradition. In the 2003/2004 season the post of Artistic Director and Chief Choirmaster of the Slovak Philharmonic Choir was assumed by Marián Vach. In 2005 – 2014 Blanka Juhaňáková served as Chief Choirmaster. Since 2014 Jozef Chabroň has served as Choirmaster of the Slovak Philharmonic Choir. Within half a century of intense artistic activity the Slovak Philharmonic Choir has developed into a body of exceptional quality which is one of the foremost European ensembles of its kind today.
Its unique technical abilities, refined expression, perfectly balanced voices, interpretational skills, reliability and exemplary artistic discipline are all reflected in its sublime performances. The creative enthusiasm and expressive power of its performances have won it praise from renowned conductors like Claudio Abbado, Serge Baudo, Bertrand de Billy, Jean-Claude Casadesus, James Conlon, Dean Dixon, Christoph von Dohnányi, Vladimir Fedoseyev, János Ferencsik, Daniele Gatti, Pedro Halffter, Riccardo Chailly, Dmitri Kitaenko, Zdeněk Košler, Ondrej Lenárd, Alain Lombard, Fabio Luisi, Lorin Maazel, Kurt Masur, Zubin Mehta, Franz Welser-Möst, Antonio Pedrotti, Libor Pešek, Ľudovít Rajter, Helmuth Rilling, Karl Richter, Esa-Pekka Salonen, Peter Schreier, Pinchas Steinberg, Hans Swarowsky, Václav Talich, Emmanuel Villaume and Ralf Weikert. In addition to regular performances at home, the choir undertakes frequent tours abroad, encompassing most European countries as well as Morocco, Turkey, Japan and Oman. The choir has cooperated with numerous prestigious foreign orchestras such as the Berlin and Vienna Philharmonic Orchestras, Vienna Symphony Orchestra, Israel Philharmonic and Orchestre de Paris. It has also contributed to the glamour of prominent international festivals in Vienna, Salzburg, London, Prague, Perugia, Edinburgh, Berlin, Athens, Madrid, Paris, Munich and Strasbourg.
Its rich discography contains recordings for Slovak and foreign television and radio stations and for many renowned recording companies such as OPUS, Supraphon, Deutsche Grammophon, Hungaroton, Sony, Marco Polo, Naxos, Nuova Era, Decca and many others.
Among the highlights of the 2017/2018 concert season was a performance at the BBC Proms Festival under the leadership of Semyon Bychkov, a performance at the Vienna State Opera, in the Czech Republic, Monte Carlo (with Juraj Valčuha), Turin (with James Conlon), Dortmund (with Gabriel Feltz), the closing concert of the Prague Spring festival with the Slovak Philharmonic Orchestra and its Chief Conductor James Judd, as well as concerts at festivals in Sankt Florian and Neuberg an der Mürz in Austria.
During the 2018/2019 season the Slovak Philharmonic Choir will be performing in a new production of H. Berlioz's The Trojans at the Vienna State Opera. In January 2019 the choir will perform concerts in Ljubljana (with Rastislav Štúr) and in Linz (with Thomas Sanderling). In April 2019 the choir will be a guest in Mahler's Symphony No. 3 at the Royal Opera House Muscat in Oman with the conductor Emmanuel Villaume and perform Mahler's Symphony No. 2 (Resurrection) under the leadership of Yutaka Sado in concerts in Austria.