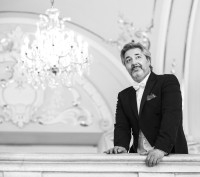 "Daniel Raiskin is clearly a musician of sensibility, well versed in his craft; a further example perhaps of one last great gift of the old Soviet Union, the rigour and distinction of its conducting schools." (Gramophone).
A son of a prominent musicologist, Daniel Raiskin grew up in St. Petersburg. He attended the celebrated conservatory in his native city and continued his studies in Amsterdam and Freiburg. First focusing on viola, he was inspired to take up the baton by an encounter with the distinguished teacher Lev Savich. In addition, he also took classes with Maestri such as Mariss Jansons, Neeme Järvi, Milan Horvat, Woldemar Nelson and Jorma Panula. Raiskin, who cultivates a broad repertoire, often looks beyond the mainstream in his strikingly conceived programs.
From the 2020/2021 season Daniel Raiskin is the Principal Conductor of the Slovak Philharmonic in Bratislava. In addition, he is Music Director of the Winnipeg Symphony Orchestra since August 2018 and Principal Guest Conductor of the Belgrade Philharmonic Orchestra from season 2017/18.
Raiskin was Principal Guest Conductor of the Orquesta Sinfónica de Tenerife (season 2017/18), Chief Conductor of both, the Staatsorchester Rheinische Philharmonie in Koblenz (2005 – 2016) and of the Arthur Rubinstein Philharmonic Orchestra in Lodz (2008 – 2015).
Daniel Raiskin is also relentlessly committed to sharing his knowledge and passion with young musicians around the world. He devotes his time regularly to working with youth orchestras in a.o. Canada, Estonia, Germany, Iceland, Netherlands, Russia and South Africa.
Among the major soloists with whom he has appeared are Emanuel Ax, Renée Fleming, Nelson Freire, Martin Fröst, Alban Gerhardt, Vadim Gluzman, Natalia Gutman, Kari Kriikku, Simone Lamsma, Lang Lang, François Leleux, Jan Lisiecki, Alexei Lubimov, Tatjana Masurenko, Albrecht Mayer, Daniel Müller-Schott, Olli Mustonen, Steven Osborne, Julian Rachlin, Benjamin Schmid, Julian Steckel, Anna Vinnitskaya and Alexei Volodin.
Recent recordings include Mahler Symphony No. 3 and Shostakovich Symphony No. 4 for the label AVI, both to great critical acclaim. His recording with cello concertos by Korngold, Bloch and Goldschmidt with Julian Steckel and the label AVI received an Echo Klassik Award in 2012. Other recent recording projects include a Louis Glass Symphonies (Prize of Danish Radio) cycle and a concerto cycle with the entire concertos and rhapsodies by Aram Khachaturian, both with the label CPO, Lutosławski's vocal-instrumental works with the label Dux and a recording of Alexander Tansman's Isaie le Prophete and Psaumes with the label World Premiere Recordings.