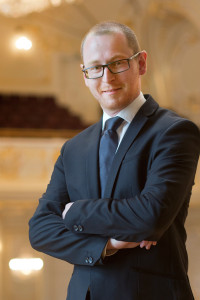 graduated from Bratislava's Academy of Performing Arts in 2007 in choral conducting, having studied under Professor Blanka Juhaňáková. At his graduation concert, Mr Chabroň conducted Beethoven's Piano Concerto No. 5 in E-fl at major (Emperor) and Mozart's Requiem, in cooperation with the Slovak Sinfonietta Žilina (the State Chamber Orchestra), the Žilina Mixed Choir, and various soloists. In January 2006, he had the opportunity to work with the Slovak Philharmonic as an assistant to the principal choirmaster Blanka Juhaňáková. Since the 2013–14 season
he has been the choirmaster of the Slovak Philharmonic Choir (SFZ).
Mr Chabroň has worked with SFZ on the staging of a great many vocal and instrumental works, including Mozart's Thamos, King of Egypt, Ravel's Daphnis et Chloé, Debussy's Nocturnes, Haydn's The Creation, Berlioz's L'enfance du Christ, Mendelssohn's Lobgesang, Suchoň's Psalm of the Carpathian Land, Puccini's Messa di Gloria, Mozart's Requiem, Shostakovich's Symphony No. 13 (Babi Yar), Szymanowski's Stabat Mater, Stravinsky's Perséphone, Janáček's Glagolitic Mass, the premieres of Krák's Missa Pro Defunctis, Berger's Missa Pro Nobis and others. Over the course of his
tenure at SFZ, Mr Chabroň has collaborated with a number of renowned conductors, including Theodor Guschlbauer, Daniele Gatti, Lothar Zagrosek, Peter Schreier, Emmanuel Villaume, Serge Baudo, Norbert Balatsch, Thomas Lang, Petr Vronský, Friedrich Haider, Paweł Przytocki, Leoš Svárovský, Petr Altrichter, Rastislav Štúr, Kai Bumann and Christoph Campestrini.
The pinnacle of his career thus far came in the study and preparation for one of the most demanding operatic pieces in SFZ's repertoire – Schoenberg's Moses and Aaron – for the Opera House in Zürich, which premiered on 15 May 2011 in a performance under the directorship of famed conductor Christoph von Dohnányi.
In the early part of the 2015–16 season, Mr Chabroň prepared SFZ for the performance of a new Slovak oratorio by Egon Krák, both in Slovakia and abroad. He has also worked with the Vienna State Opera on Mussorgsky's Khovanshchina and Boris Godunov. In addition, he has conducted SFZ's concerts in Hamburg, Bratislava and Piešťany. In the 2016–17 season, Mr Chabroň is to work with the Royal Opera House Muscat, Oman, on the operatic staging of Lohengrin.