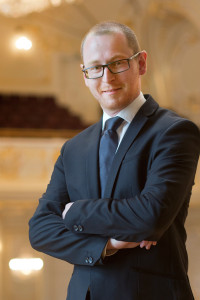 graduated from Bratislava's Academy of Performing Arts in 2007 in choral conducting, having studied under Prof. Blanka Juhaňáková. In 2006 he was given the opportunity to cooperate with the Slovak Philharmonic Choir as Assistant to the Principal Choirmaster of the Slovak Philharmonic Choir, Blanka Juhaňáková. Since the 2013/14 season he has been the Choirmaster of the Slovak Philharmonic Choir. Mr Chabroň has prepared the Slovak Philharmonic Choir for performances of a great many vocal and instrumental works, including Ravel's Daphnis et Chloé, Debussy's Nocturnes, Haydn's The Creation, Berlioz's L'enfance du Christ, Mendelssohn's Lobgesang, Suchoň's Psalm of the Sub-Carpathian Land, Puccini's Messa di Gloria, Mozart's Requiem, Shostakovich's Symphony No. 13 (Babi Yar), Szymanowski's and Rossini's Stabat Mater, Stravinsky's Perséphone and Oedipus Rex, Janáček's Glagolitic Mass, Britten's War Requiem and Schönberg's Gurrelieder. He has conducted the premieres of Krák's Missa Pro Defunctis, Berger's Missa Pro Nobis, Piaček's Apolloopera, Wirth's Carmina austriaca and others. Over the course of his tenure at the Slovak Philharmonic Choir, Mr Chabroň has collaborated with a number of renowned conductors, including J. Judd, E. Villaume, S. Baudo, J. Valčuha, T. Sanderling, N. Ballatsch, Th. Lang, F. Haider, L. Svárovský, P. Altrichter, R. Štúr, Ch. Campestrini, S. Bychkov, J. Conlon, R. Weikert, Y. Sado, P. Valentovič and others.
The pinnacle of his career has thus far been the study and preparation of Schoenberg's Moses and Aaron for the Opera House in Zürich in 2011, with the premiere conducted by the famed conductor Christoph von Dohnányi, as well as preparation of the Slovak Philharmonic Choir for opera productions of Mussorgsky's Khovanshchina and Berlioz's The Trojans at the Vienna State Opera. He has also cooperated with BBC Singers. He has conducted Slovak Philharmonic Choir concerts in Hamburg, Bratislava, Žilina and Piešťany.
During the 2019/2020 season he cooperated with the Konzerthausorchester Berlin and the conductor Christoph Eschenbach in performing Mahler's 8th Symphony in Berlin. He prepared the Slovak Philharmonic Choir for cooperation with the Tonkünstler Orchestra in Austria (Dvořák: Requiem) and the Pilsen Philharmonic (Beethoven: Missa solemnis) in Czechia.
At the beginning of the new season he will, together with the Slovak Philharmonic, conduct Beethoven's 9th Symphony at a festival in Piešťany. He will be cooperating with the Vienna State Opera in the preparation of the Slovak Philharmonic Choir for a new opera production of Eugene Onegin, and with the FOK Prague Symphony Orchestra for a production of Poulenc's Gloria. During the second half of the season he will prepare the SPh Choir for a performance of Paul Hindemith's Oratorio with the Bruckner Orchestra Linz in Austria.