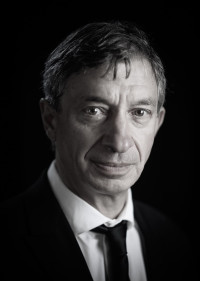 After studying flute at the Conservatory in Kroměříž under B. Růžičková, Rozehnal pursued orchestral conducting at JAMU in Brno with O. Trhlík and L. Mátl. His studies were further extended by a two-year internship at the Czech Philharmonic.
Already during his studies in Brno, he founded and conducted The Brno Youth Music Choir, with which he won several awards at international competitions. After completing his studies, he worked as an assistant to L. Mátl in The Moravian Teachers Choral Society, and later became its conductor.
He started his professional career as a conductor of the South Bohemian Theater in České Budějovice. Subsequently, he was choirmaster of Brno Philharmonic Choir Beseda Brno, associated with Brno Philharmonic. In the years 1990-2003, he was the choirmaster of the Slovak Philharmonic Choir. With the ensemble, he experienced many exciting moments on both domestic and international stages. During his time in Bratislava, he founded the choir Camerata Bratislava, whose domain was the historically informed performance of early music. The ensemble won the French Revue Diapason D'OR award and the prize of the Prime Minister of the Slovak Republic. In the years 2004-2008, he moved to Prague, where he was choirmaster of the Kühn Mixed Choir and the Prague Philharmonic Choir.
Since 2008, he has been choirmaster and conductor at the German music institutes in Koblenz, Frankfurt and Halberstadt. Throughout his musical career, he has been involved in various productions and recordings for renowned companies such as Decca, Deutsche Grammophon Gesellschaft, Discovery, Harmonia Mundi, Naxos, NBC, and Slovart. He has collaborated with ensembles and conductors of great reputation, including C. Abbado, R. Chailly, Ch. von Dohnányi, K. Masur, Z. Mehta, G. Prêtre, and R. Weikert.