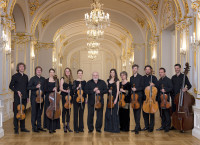 was established in 1960 at the Slovak Philharmonic by the outstanding violinist of Silesian origin, B. Warchal (1930 – 2000). Since the beginning of its existence it has been one of the most popular ensembles of classical music in Slovakia. In 2001 E. Danel took over leadership of the orchestra.
Apart from regular concerts at the Slovak Philharmonic and participation in festivals and concert tours abroad, the orchestra presents many exceptional projects. The orchestra has discovered many works of famous international composers for the Slovak public. The orchestra plays a significant role in presenting the works of Slovak composers and has premiered more than seventy works since 2001.
They regularly perform special concerts not only for the anniversaries of important composers and personalities from the music world, but also commemorate the exceptional contribution made to the Slovak music scene by their founder in a special concert, Hommage à Bohdan Warchal. As part of the Church Music Cycle, the Slovak Chamber Orchestra supports the work of professional and non-professional choirs. It is important to mention that the orchestra continues to maintain the nearly two-hundred-year-old Bratislava tradition of performing Haydn's Seven Last Words of our Saviour on the Cross in St. Martin's Cathedral on Palm Sunday and continues to present "Concerts without barriers" for the disabled.
In the 2023/2024 season, the orchestra will perform at events in the Czech Republic, including the St. Wenceslas Music Festival. They will also have performances in several Slovak cities, enriching local music events during both the fall and spring seasons. As part of the Slovak Chamber Orchestra subscription series, the orchestra will collaborate with leading soloists such as harpist K. Turnerová, harpsichordist J. Izsák, violinist D. Karvay, cellist Ľ. Kanta, double bassist R. Patkoló, trumpeters J. Bartoš and S. Masaryk, as well as saxophonist L. Fančovič.