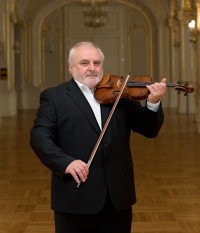 studied the violin and conducting at the Ostrava Conservatory and the Academy of Performing Arts in Bratislava. He attended a conducting course with K. Österreicher and a choir conducting course with J. Wierszyłowski and completed his doctoral studies with B. Warchal. After his studies he was Concertmaster of the Slovak Radio Symphony Orchestra and the Slovak National Theatre Orchestra. Since 1985 he has been the Concertmaster of the Slovak Philharmonic Orchestra. In 2001 he took over the position of Artistic Leader of the Slovak Chamber Orchestra.
As a soloist and conductor Mr Danel has performed on the stages of a multitude of European cities, and overseas (Japan, Korea, Egypt, Panama, Brazil, the USA). He cooperates on a long-term basis with the Orquestra Sinfonica Municipal São Paulo, Hiroshima Symphony Orchestra, Akita Chamber Orchestra, Tokyo Harmonia Chamber Orchestra, and he has performed with the Klang Verwaltung München, Orchestra Ensemble Kanazawa, Nagoya Philharmonic Orchestra, Osaka Symphoniker, Sakata Philharmonic Orchestra, Slovak Philharmonic Orchestra, PKF – Prague Philharmonia, Orquesta Filarmónica de Málaga and the Janáček Philharmonic Ostrava a. o. He was the Chief Guest Conductor of the Hiroshima Symphony Orchestra from 2008 – 2014.
Apart from his conducting and solo activities he has a wealth of experience in chamber music – as a leader of the Slovak Quartet since 1986, as co-founder of the Slovak Piano Trio, the violinist of Kubín Quartet, and he has also played in the Musica Aeterna ensemble for many years. From 1992 – 1996 he was concertmaster of Cappella Istropolitana. He cooperates in various chamber ensemble projects at home and abroad.
He was awarded the Sebastian Prize for his outstanding contribution to the legacy of the works of J. S. Bach. He taught at the Academy of Performing Arts in Bratislava from and held the position of Guest Professor at the Aichi Prefectural University of Fine Arts and Music in Nagoya in Japan. At present he teaches at the Academy of Arts in Banská Bystrica.
As the artistic leader of the Slovak Chamber Orchestra, he initiated the foundation of Hommage à Bohdal Warchal concerts, concerts in churches, concerts for people with disabilities, the creation of new compositions and many extraordinary projects such as this season's Hommage à Viliam Farkaš and Joseph Kun or Concert Without Applause. He repeatedly performed Dvořák's Biblical Songs as a project designed for a wide spectrum of interested people, e.g. at the Pohoda festival (2018) with the participation of over 250 singers. An important part of his artistic activities is targeting long-term cooperation with amateur church choirs and music ensembles as conductor, organiser and author of spiritual music.