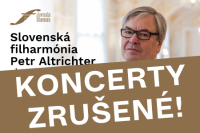 Dear visitors,
We regret to announce that Petr Altrichter, the permanent guest conductor of the Slovak Philharmonic, had to cancel his participation in the concerts scheduled for Thursday 7 March and Friday 8 March due to sudden health issues. Both concerts will be CANCELLED and all tickets will be refunded.
The tickets can be reimbursed at the box office of the Slovak Philharmonic until Friday 29 March  2019. Subscribers of the concert cycle will be paid back an aliquot part of the season ticket. Tickets purchased on www.ticketportal.sk can be refunded at the Ticketportal sale points.
Thank you for your comprehension.
Slovak Philharmonic