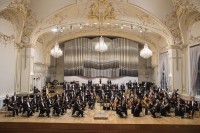 The Slovak Philharmonic Orchestra (SPh)
was established in 1949. Two highly reputed, internationally acclaimed personalities, Václav Talich (principal conductor, 1949 – 1952) and Ľudovít Rajter (1949 – 1976, and the orchestra's Artistic Director until 1961), stood at the orchestra's birth. Other chief conductors who have played an instrumental role in the orchestra's musical evolution include Tibor Frešo, Ladislav Slovák, Libor Pešek, Vladimir Verbitsky, Bystrík Režucha and Aldo Ceccato. Between 1991 and 2001 the role of Chief Conductor and Music Director was held by Ondrej Lenárd. In the 2003/2004 season Jiří Bělohlávek acted as Artistic Director. In 2004, Vladimír Válek became Chief Conductor, before being succeeded by Peter Feranec in September 2007. From 2009 – 2016 Emmanuel Villaume was the orchestra's Chief Conductor and in the 2017/2018 season James Judd will take over this appointment. Leoš Svárovský has been the orchestra's Permanent Guest Conductor since 2007, with Rastislav Štúr joining him from the 2011/12 season.
Among the many guest conductors who have worked with the Slovak Philharmonic over the years, international personalities like Claudio Abbado, Hermann Abendroth, Petr Altrichter, Karel Ančerl, Serge Baudo, Roberto Benzi, Miltiades Caridis, Sergiu Celibidache, James Conlon, Oskar Danon, Christoph von Dohnányi, Vladimir Fedoseyev, János Ferencsik, Mariss Jansons, Neeme Järvi, James Judd, Peter Keuschnig, Dmitri Kitayenko, Ken Ichiro Kobayashi, Kirill Kondrashin, Franz Konwitschny, Zdeněk Košler (who, thanks to his long-standing fruitful collaboration with orchestra, was awarded the honorary title of 'Chief Conductor in memoriam' in 1996), Alain Lombard, Fabio Luisi, Jean Martinon, Kurt Masur, Sir Yehudi Menuhin, Riccardo Muti, Václav Neumann, Antonio Pedrotti, Alexander Rahbari, Karl Richter, Mario Rossi, Witold Rowicki, Kurt Sanderling, Sir Malcolm Sargent, Peter Schreier, Václav Smetáček, Pinchas Steinberg, Otmar Suitner, Yevgeny Svetlanov, Ralf Weikert and Carlo Zecchi, among others must be mentioned, as well as composers and artists of own works like Krzysztof Penderecki and Aram Khachaturian.
The orchestra has made numerous recordings for radio, television and the music publishers Opus, Supraphon, Panton, Hungaroton, JVC Victor, RCA, Pacifi c Music, Naxos and Marco Polo. The Slovak Philharmonic Orchestra regularly gives guest performances on leading European stages and at festivals. In the course of its numerous tours abroad, the Slovak Philharmonic has performed in nearly every European country, as well as in Turkey, Japan, South Korea and the United States. During the 2016/2017 season the orchestra performed an abundance of high-quality concerts in Slovakia and abroad. At the beginning of the season the orchestra performed for the fifth time in Oman, this time in a production of the opera Lohengrin by Richard Wagner with the conductor Ralf Weikert. Other important concerts were performed in Italy, Austria and Germany.
The 2017/2018 season was opened by the Slovak Philharmonic Orchestra at the Murten Classics Festival in Switzerland under the leadership of Kaspar Zehnder and Rastislav Štúr. In March 2018 they will perform at the Prague Spring International Music Festival with the new Chief Conductor, James Judd, and the season will be closed by the conductors Daniel Raiskin and Leoš Svárovský with a tour of Japan.