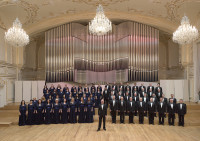 is a prominent representative of the Slovak art of professional choir singing. It entered the music scene in 1946 as the Mixed Choir of Czechoslovak Radio. For the first years, it was led by its founder, conductor Ladislav Slovák. In 1957 the choir was incorporated into the group of Slovak Philharmonic ensembles. Several important personalities (J. M. Dobrodinský, Š. Klimo, P. Procházka, M. Vach, J. Rozehnal, B. Juhaňáková) took over the post of choirmasters. Since 2014, it has been led by J. Chabroň. The sophistication of expression, the sound balance of vocal groups, as well as interpretive readiness, reliability and exemplary artistic discipline are reflected in sovereign performances, which have been appreciated by many renowned conductors as C. Abbado, S. Baudo, S. Byčkov, J. Conlon, Ch. von Dohnányi, V. Fedosejev, J. Ferencsik, D. Gatti, P. Halffter, R. Chailly, D. Kitajenko, L. Maazel, Z. Mehta, F. Welser-Möst, A. Pedrotti, K. Richter, E. Pekka-Salonen, P. Schreier, V. Talich, E. Villaume, R. Weikert, and others.
The choir has collaborated with prestigious foreign orchestras such as the Berlin and Vienna Philharmonic, the Vienna Symphony Orchestra, the Israel Philharmonic, and the Orchester de Paris. Its rich discography includes recordings for Slovak and foreign television and radio stations, as well as for renowned recording companies, such as Opus, Supraphon, Deutsche Grammophon, Hungaroton, Sony, Marco Polo, Naxos, Nuova Era, Decca, etc.
In the 2021/2022 season, the Slovak Philharmonic Choir aroused international acclaim at the Easter Festival in Baden-Baden with a stage performance of the opera The Queen of Spades and a concert version of the opera Jolanta, as well as concerts with the Berlin Philharmonic (The Queen of Spades) conducted by Kirill Petrenko.
The choir also performed in the production of Boris Godunov at the Vienna State Opera (conductor S. Weigle). The male part of the choir performed the oratorio Oedipus Rex by Igor Stravinsky in Switzerland (conductor J. van Steen). As part of the Beethoven Marathon 2022, the choir performed in Symphony No. 9 at concerts in Germany and Serbia (conductor G. Feltz).
In the 2022/2023 season, the Slovak Philharmonic Choir will perform on concert stages in Germany in Mannheim music by Tallis (Spem in allium), Ligeti (Lux Aeterna), Stravinsky (The Symphony of Psalms) and Scriabin (Prometheus). In Berlin, they will perform Mahler's Symphony No. 2 and in Stuttgart Beethoven's Symphony no. 9. The male part of the choir will perform at the end of the season in Schoenberg's cantata Songs from Gurré in Prague and Litomyšl.