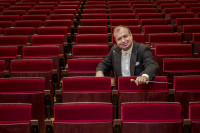 Leoš Svárovský. The permanent Guest Conductor of the Slovak Philharmonic Orchestra, studied flute at the Prague Conservatoire and conducting at the Academy of Music in Prague (where he was awarded the AMU rector's prize) with the renowned profesor Václav Neumann. He started his career at the National Theatre in Prague as Assistant to Zdeněk Košler.
Leoš Svárovský has been teaching oratorio and cantata conducting at the Academy of Music in Prague since 2000. In 2012 he habilitated in Brno at the Janáček Academy of Music and is a senior lecturer.
Since the start of his career Leoš Svárovský has been Chief Conductor of excellent Czech and Slovak orchestras: the Prague Chamber Opera (1985 – 1987), Janáček Philharmonic Orchestra Ostrava (1991 – 1995), Slovak Sinfonietta Žilina (1995 – 2000) where he has been Chief Guest Conductor since 2010, the Pardubice Chamber Philharmonic (1997 – 2009), the Ballet of the Prague National Theatre (2001 – 2002), Prague State Opera (also as Artistic Director from 2003 to 2005) with works like Donizetti's Lucia di Lammermoor, Prokofiev's Cinderella, Dvořák's Rusalka and the premiere of Janáček's Katya Kabanova, Gounod's Faust and Marguerite, and Glazunov's ballet Raymonda op. 57 at the National Theatre in Prague.
Since 2014 he has been the Chief Conductor of the Aichi Central Symphony Orchestra Nagoya. He is Permanent Guest Conductor of the Slovak Philharmonic Orchestra and Honorary Member of the Brno Philharmonic. Leoš Svárovský is a regular guest at various important music festivals in the Czech Republic and abroad. He is President of the Ema Destinnová International Music Festival in České Budějovice, a popular guest conductor at the Smetana's Litomyšl Festival, in Český Krumlov, the Janáček May Festival, the Easter Festival of Sacred Music in Brno and the Peter Dvorsky International Music Festival in Jaroměřice. He conducted the world premiere of the Czech composer, Slavomír Hořínka's Concerto for Violin with the soloist Sophia Jaffé and the Czech Philharmonic as part of the Brno International Music Festival. He regularly performs at the prestigious Rheingau Musik Festival, where, together with the Brno Philharmonic and the Czech Philharmonic Choir Brno, he presented Massenet's Marie Magdaleine, Dvořák's and Verdi's Requiem, Franz Liszt's monumental oratorio Christ and Berlioz's Romeo and Juliet. In 2015 he conducted Dvořák's Stabat mater in the Eberbach Abbey near Wiesbaden. He has also been a guest at other international festivals like the Europäische Wochen Passau, Aspekte Salzburg, George Enescu Festival Bucharest, Colorado Music Festival, Settimane Musical di Ascona and the Bratislava Music Festival, among others.
In preceding seasons he has conducted and cooperated with all Czech and Slovak orchestras, like the Czech Radio Symphony Orchestra, PKF – Prague Philharmonia, Czech Philharmonic, FOK Prague Symphony Orchestra, Brno Philharmonic, Czech National Symphony Orchestra, Janáček Philharmonic Ostrava, Pardubice Chamber Philharmonic, B. Martinů Philharmonic, Slovak Philharmonic Orchestra, Slovak Sinfonietta Žilina, Slovak State Philharmonic Košice and others.
He cooperates with many foreign orchestras e.g. Orchestre de Pays de la Lorraine Metz, Staatskapelle Dresden, Beethoven Orchester Bonn, Stuttgarter Philharmoniker, Mozarteum Orchester Salzburg, Bach Collegium München, Residentie Orkest den Haag, RTL Symphony Orchestra Luxem bourg, Bruckner Orchester Linz, Orquestra Metropolitana de Lisboa, Shanghai Radio Symphony Orchestra, Radio Symphonie Orkest Utrecht, The Colorado Music Festival Orchestra, Zagreb Philharmonic, Seoul Philharmonic Orchestra, KBS Symphony Orchestra, Ulsan Philharmonic Orchestra, Presidential Symphony Orchestra Ankara, Dortmunder Philharmoniker, Tokyo Metropolitan Symphony Orchestra, Malta Philharmonic, Armenian Philharmonic. In October 2011 he made his debut with the P. I. Tchaikovsky Symphony Orchestra in Moscow with which he has been in long-term cooperation. In 2015 he conducted this orchestra in Prague and in 2017 in Moscow where he will once again be performing with them in 2019.
During his career he has performed with the soloists Josef Suk, Rudolf Firkušný, Václav Hudeček, Igor Ardašev, Igor Oistrach, Stefan Vladar, Viktor Pikajzen, David Geringas, Håkan Hardenberger, Katja Ricciarelli, Miriam Gauci, Kurt Rydl, Sergej Larin, Nicola Martinucci, Eva Randová, Dagmar Pecková, Peter Dvorský, Ľuba Orgonášová, Rudolf Buchbinder, Alfons Kontarsky, Leila Josefowicz, Christian Poltéra, Fazil Say, Udo Ughi, Xavier de Maistre, Sophia Jaffé, Giovanni Bellucci, Danielle de Niese, Sumi Jo, Dai Miyata and others throughout Europe, the USA, Canada, South America, Japan and Korea.
Leoš Svárovsky's discography includes more than 24 CDs with various companies in the Czech Republic, Germany, the USA, Japan, Slovakia and France (Panton, Supraphon, JOD, Thoroform, WEA, Records, New Classic).
He has enjoyed great success with the Brno Philharmonic in Japan (2011, 2013, 2015), also with the Slovak Philharmonic Orchestra (2003, 2005, 2007, 2010, 2012, 2014, 2015), the PKF – Prague Philharmonia in Syria, the Czech Radio Symphony Orchestra in Germany and the Czech Philharmonic in their tour of the USA. In the 2017/2018 season he will be guest conductor in Germany, Korea, Switzerland, Austria and Japan.