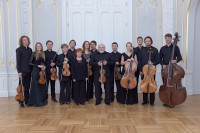 THE SLOVAK CHAMBER ORCHESTRA
was established in 1960 at the Slovak Philharmonic by the outstanding violinist of Silesian origin, Bohdan Warchal (1930 – 2000). Since the beginning of its existence it has been one of the most popular ensembles of classical music in Slovakia. Under the leadership of maestro Warchal it became one of the most prominent representatives of Slovak performing art abroad.
Music from the Baroque period used to form the main repertoire of the ensemble, later also including music from the 19th and 20th centuries and many first performances of works by Slovak and foreign composers. Bohdan Warchal led the orchestra for nearly 40 years. His successor was Ewald Danel, who has been the Artistic Leader since 2001. The repertoire of the rejuvenated ensemble has moved slightly towards Romanticism and the music of the 20th century.
Apart from regular concerts at the Slovak Philharmonic and participation in festivals and concert tours abroad, the orchestra presents many exceptionally interesting projects. They performed Bach's complete Brandenburg Concerts and Orchestral Suites for the first time in Slovakia in one concert. They gradually introduced all of Georg Friedrich Händel's and Arcangelo Corelli's Concerti Grossi in their concerts as well as the rare set of string symphonies composed by the young F. Mendelssohn Bartholdy and repeat performances of G. F. Händel's Messiah oratorium. The orchestra has discovered many works of famous international composers for the Slovak public which have been up-to-now unplayed in Slovakia, and has performed the Slovak premiere of the work "Eight seasons" by A. Vivaldi and A. Piazolla and own arrangements of J. Ježek's songs. The orchestra plays a significant role in presenting the works of Slovak composers and has premiered more than fifty works since 2001. During the Year of Slovak Music 2016 they recorded two CD's with works by Slovak composers.
They regularly perform special concerts not only for the anniversaries of important composers, but also commemorate the exceptional contribution made to the Slovak music scene by their founder in a special concert, Hommage à Bohdan Warchal. As part of the Music in Churches cycle at home, the Slovak Chamber Orchestra supports the work of non-professional choirs. This cooperation with choirs has meanwhile expanded to include cooperation with non-professional chamber orchestras, recently also on a nationwide scale.
It is important to mention that the orchestra continues to maintain the nearly two-hundred-year-old Bratislava tradition of performing Haydn's Seven Last Words on the Cross in St. Martin's Cathedral on Palm Sunday and continues to present concerts for the physically disabled. The orchestra regularly cooperates with renowned Slovak and foreign artists and prepares concerts for children and young people in regular concert cycles at the Slovak Philharmonic. As Honorary Guest they work with the Children's University in Bratislava by preparing concert workshops for the children.