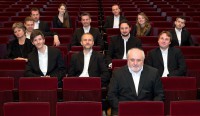 CEO of the Slovak Philharmonic announces auditions for the Slovak Chamber Orchestra Violin player

Auditions will be held on June 1st, 2018 (Friday) at 9 PM at the Slovak Philharmonic Small Hall, Medená 3, 816 01 Bratislava.
Required musical education: University degree in the relevant field
Detailed conditions of the auditions are published on the website of the Slovak Philharmonic: www.filharmonia.sk.
The orchestral extracts to be prepared for the Slovak Philharmonic auditions, see below
Please send your applications along with an artistic CV until May 18th, 2018 at the address:
Slovenská filharmónia
Medená 3
816 01 Bratislava
Slovakia
or by electronic mail to: kristina.szenasiova@filharmonia.sk
The Slovak Philharmonic will provide candidates with an accompanist (piano tuning 442);
candidates can also arrange an own piano accompaniment at their own expense.
Audition conditions for the position
– violin player of the Slovak Chamber Orchestra
1) J. S. Bach: slow excerpt from Sonatas and Partitas for Solo Violin, BWV 1001 – 1006
2) W. A. Mozart: 1. movement from following Violin concertos including cadence
G Major K. 216
D Major K. 218
A Major K.219
3) 1. movement from the violin concert  of the Romantism period or A comparable Concertanto piece.
4) Selected orchestral score excerpts.
Playing by heart is not needed.
Click on the link for your instrument to download a orchestral extracts copy package.