Member of the World Federation of International Music Competition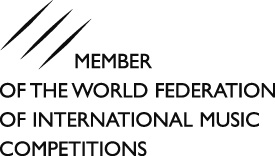 Supported by the Ministry of Culture of the Slovak Republic
Bratislava, Slovak Republic
20-27 June, 1999
General sponsor
Ericsson Slovakia, s r.o.
 Organisers
National Music Centre – Slovkoncert
City Culture Centre Bratislava
Slovak Philharmonic
Academy of Music and Drama in Bratislava
Music Fund
Slovak Television
Slovak Radio
Foundation of St. Constantine and St. Methodius
International Johann Nepomuk Hummel Foundation
Ján Cikker Foundation
Preparation committee:
Prof. Marian Lapšanský
President of the International Hummel Piano Competition
Ing. Jozef Tkáčik
Director of the Slovak Philharmonic
PhDr. Pavel Schwarz
Director of the City Culture Centre Bratislava
Prof. Ida Černecká
Academy of Music and Drama in Bratislava
 Hanuš Domanský
Head of the classical music department of the Slovak Radio
 Igor Dibák
Slovak Television
 PhDr. Ľubica Ballová
Executive chairperson of the International Johann Nepomuk Hummel Foundation for revival and development
 Ing. Miloš Kocian
Director of the Music Fund
 Doc. Ladislav Mokrý
Ján Cikker Foundation
Dorka Žoldošová
Competition manager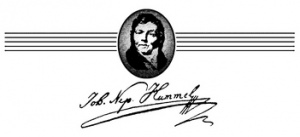 JOHANN NEPOMUK HUMMEL
Johann Nepomuk Hummel (1778-1837), a native of Bratislava, was considered to be one of the Europe´s greatest composers and pianists in his lifetime. He studied with Mozart, Albrechtsberger, Salieri and Haydn. As a composer Hummel stands on the borderline between epochs. His work embraced virtually all the genres at the turn of century (except of symphony) and he is an outstanding representative in writing of virtuoso piano music. Stylistically, Hummel´s music connects classical with many proto-Romantic elements. As one of the most renowned representatives of late Classicism, be developed the styles of Clementi, Mozart and Beethoven and portends those of Schubert, Mendelssohn, Chopin, early Liszt and Schumann.
The International Johann Nepomuk Hummel Piano Competition would like to keep in memory the message of this great composer and piano virtuoso. At the same time it is the wish of the organizers that this competition will be the starting point of artistic careers of remarkable pianists.
Jury:
Chairman
Lazar Berman, Italy
Members
 Halina Czeny-Stefańska, Poland
Ida Černecká, Slovak Republic
Sándor Falvai, Hungary
Eugen Indjić, France, U.S.A.
Marian Lapšanský, Slovak Republic
John Roos, Republic of South Africa
Gyorgy Sandor, U.S.A.
Peter Toperczer, Czech Republic
Jan Wijn, The Netherlands
OBLIGATORY REPERTOIRE
1st round:
a) one sonata by J. Haydn or W. A. Mozart
b) one work by F. Chopin:
Scherzo no. 3 C sharp minor op. 39
Scherzo no. 4 E major op. 54
Balada no. 1 G minor op. 23
Balada no. 4 F minor op. 52
c) one etude by F. Liszt
chosen from the following:
Transcendentales:
Mazeppa
Feux-Follets
Wilde Jagd
No. 10 in F minor
Grandes études de Paganini
La Campanella
No. 6 in A minor
d) one etude by Jan Cikker chosen from the cycle "Tatra Streams"
e) one of the etudes composed by Rachmaninoff, Scriabin, Debussy,  Prokofiev, Bartók, Stravinsky
2nd round:
a) L. van Beethoven: one of the sonatas excluding op. 49, op. 54, op. 78, op. 90
b) one important composition of Romanticism
c) one composition of 20th century
A piece from the 1st round cannot be repeated. Duration of the 2nd round: min. 50, max. 60 minutes.
2rd round:
a) J. N. Hummel: Septet op. 74
b) one of the following concerts:
W. A. Mozart:
E flat major KV 217
D minor KV 466
C major KV 467
A major KV 488
B flat major KV 595
L. van Beethoven:
No. 1, 2, 3, 4, 5
J. N. Hummel:
A minor op. 85
The obligatory version of Hummel´s Septet for flute, oboe, horn, viola, violoncello, double bass and pianoforte by PETERS EDITION.
The Prizes of the Competition
Main Prizes:
1st Prize The Prize of the Ericsson Company 120.000 Slovak Crowns
2nd Prize The Prize of the Ministry of Culture 60.000 Slovak Crowns
3rd Prize The Prize of the Mayor of the City of Bratislava
Other Prizes:
Prize of "The Hummel Classical Foundation for the best rendition of Hummel´s Septet op. 74
Prize of the Ján Cikker Foundation for the best rendition of the Etude by Ján Cikker
Prize of the Ministry of Education
Prize of the Music Fund for the best Slovak participant
LAUREATES

1st Prize:
Derek Wieland, (USA)
2nd Prize:
Bas von Bommel, (Netherlands)
3rd Prize:
Štěpán Kos, (Czech Republic)