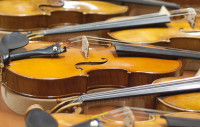 CEO of the Slovak Philharmonic announces auditions
for the position tutti player in the group of violin, artistic assistance for an unoccupied seat
contract start date – immediately 
Base salary € 1 000-1 200 (Due to Contestant Professional Experience)

Auditions will be held at the Slovak Philharmonic Concert Hall, Medená 3, 816 01 Bratislava.
on November 10th, 2021 (Wednesday) at 1 PM
Required musical education: Conesrvatory or University degree in the relevant field
Detailed conditions of the auditions are published on the website of the Slovak Philharmonic: www.filharmonia.sk.
The orchestral extracts to be prepared for the Slovak Philharmonic auditions, see below.
Please send your applications along with an artistic CV until November 5th, 2021 by electronic mail to: alexandra.snadikova@filharmonia.sk 
Candidates can also arrange an own piano accompaniment at their own expense.
prof. Marian Lapšanský
CEO of the Slovak Philharmonic
---
Audition conditions for the position
– tutti player in the group of violin, artistic assistance for an unoccupied seat
W. A. Mozart: Mov. 1. form Violin Concerto –  including cadence (K. 216, K. 218,, K. 219)
Accompaniment
R. Strauss          Don Juan
W. A. Mozart    Symphony No. 39 – Mov. 4
B. Smetana       Bartended Bride
Click on the link for your instrument to download a orchestra extracts copy package.