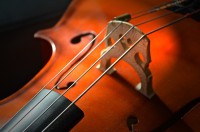 Slovak Philharmonic CEO announces auditions for the position
– Cello Tutti player
Base salary € 1 200 – 1 440 (Due to Contestant's Professional Experience)

Auditions will be held on September 21st, 2022 at 14:30 at the Slovak Philharmonic Concert Hall , Medená 3, 816 01 Bratislava.
Required musical education: University degree in the relevant field
Detailed conditions of the auditions are published on the website of the Slovak Philharmonic: www.filharmonia.sk, see below
The orchestral extracts to be prepared for the Slovak Philharmonic auditions, see below
Please send your applications along with an artistic CV by September 7th, 2022 at the address:
Slovenská filharmónia
Medená 3
816 01 Bratislava
Slovakia
or by electronic mail to: alexandra.snadikova@filharmonia.sk
The Slovak Philharmonic will provide candidates with an accompanist (piano tuning 442);
candidates can also arrange an own piano accompaniment at their own expense.
Marián Turner
Slovak Philharmonic CEO
---
Audition conditions for the position
– Slovak Philharmonic Orchestra tutti player in the group of Cello
First round:
Concerto from the period of Classicism (one movement – free Contestant's selection plus Cadence)
Second round:
Concerto from the period of Romanticism (one movement – free Contestant's selection)
Orchestra literature:
R. Strauss – Don Juan
(from start to letter B; from letter R to T)
F. M. Bartholdy
A Midsummer Night's Dream – Scherzo (from letter N to O)
B. Smetana
The Bartered Bride – Overture (whole)
W. A. Mozart
Symphony No. 35, K. 385 – Movement 4. – Presto (bars 134 – 197)
L. van Beethoven
Symphony No. 5 – Movement 2.
G. Verdi
Requiem – Offertorio
Press on the link for your instrument to download a orchestral extracts copy package.