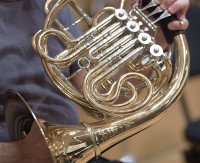 Slovak Philharmonic CEO announces auditions for the position
– player in the group of French Horn, on September 25, 2018

Entry-Level Salary  € 950 – 1 160 (according to length of professional experience).
Auditions will be held on September 25th (Tuesday), 2018 at 2:30 PM at the Concert Hall of the Slovak Philharmonic, Medená 3, 816 01 Bratislava.
Required musical education: University degree in the relevant field
Detailed conditions of the auditions are published on the website of the Slovak Philharmonic: www.filharmonia.sk, see below
The orchestral extracts to be prepared for the Slovak Philharmonic auditions, see below
Please send your applications along with an artistic CV until September 11st, 2018 at the address:
Slovenská filharmónia
Medená 3
816 01 Bratislava
Slovakia
or by electronic mail to: alexandra.snadikova@filharmonia.sk
The Slovak Philharmonic will provide candidates with an accompanist (piano tuning 442);
candidates can also arrange an own piano accompaniment at their own expense.
prof. Marian Lapšanský
Slovak Philharmonic CEO
---
Audition conditions for the position
– Slovak Philharmonic Orchestra player in the group of French Horn
Compulsory pieces:
W. A. Mozart:
Horn Concerto No. 4 in E-Flat Major, K. 495
R. Strauss:
Horn Concerto No. 1 in E flat Major, op. 11
Orchestra literature:
P. I. Tchaikovsky:
Symphony No. 5,  Op. 64
C. Franck:
Symphony in D Minor
J. Brahms:
Symphony No. 2 in D Major, Op. 73
Piano Concerto No. 1 in D Minor, Op. 15
Piano Concerto No. 2 in B flat Major, Op. 83
R. Strauss:
Till Eulenspiegel, Op. 28
Ein Heldenleben (A Hero's Life), Op. 40
A. Dvořák:
Symphony No. 7 in D Minor, Op. 70
Symphony No. 9 in E Minor,  Op. 95
L. v. Beethoven:
Symphony No. 9 in D Minor, Op. 125
G. Mahler:
Symphony No. 9
+ play at sight
Press on the link for your instrument to download a orchestral extracts copy package.